The Unique Gift of the Power of Words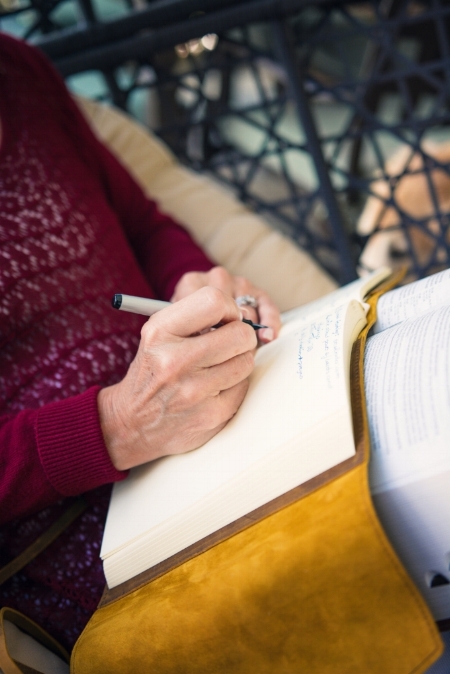 Twelve years ago a friend of mine handed me a book called "Ancient Path". She told me a little about it and how it changed her life. Several months later I not only read the book but also participated in my first two-day seminar called "Ancient Path".
It was the first time I ever heard about spiritual warfare, the power of words and how intentionally the patriarchs blessed their descendants.
I walked away as a different person and began my journey walking in freedom. Damaging words that had been spoken to and over me as a child and teenager had left deep marks and impacted my whole life.
Honestly, I cannot get enough information about the power of words and how to bless others ever since that weekend.
THE POWER TO USE WORDS IS A UNIQUE AND POWERFUL GIFT FROM GOD.
With my heightened awareness of the spoken word my sensitivity towards them grew. I wanted to speak life over the people that are in my life and be more intentional.
It might sound funny but my ears needed a complete fine-tuning or make over. I was drawn to words of affirmation and made mental notes of phrasing questions or remarks positively. Learning this kind of language is an exciting journey.
Proverbs 18:21 says, "Death and life are in the power of the tongue, and those who love it will eat its fruit."
Here is my dilemma. I struggle like probably many others with the problem of managing my tongue. Awareness of and diligently working on my blessing language don't prevent those moments when my tongue takes off like a rocket and my brain tries frantically to process the content.
THE GOLDEN RULE OF BLESSING OTHERS.
I wish there was be a quick fix. The golden rule that guides me is to remind myself to treat others in a respectful and honoring way. It helps me when I reflect about the intention behind my words. Do I want to help or hurt someone?
My mother always reminded me that I should treat others the way I wanted to be treated. I am certain that you have heard that before. This is one nugget in parenting Pete and I carried over in raising our children.
NOT ACCEPTING WORDS SPOKEN OVER US AS TRUTH.
When our daughter Dominique turned two I consulted a developmental specialist in the hope she could help me to understand what was going on with her and why she had such a hard time developing. I probably will never forget that small little office and the cold atmosphere.
After one hour she diagnosed our daughter as most likely mentally retarded and stated that she would never be able to talk or walk.
I stumbled out of her office holding our sweet girl tightly in my arms utterly overwhelmed and devastated. On my way home I was trying to process this terrible diagnosis and tears were running down my cheeks.
Words are not simple sounds that convey information. These words ripped my heart apart and were shattering my 'mommy world'.
After two years of trying so hard to help her to heal and grow I reached the lowest point in my life. I felt completely broken and hopeless. In my brokenness my prayers became shorter and in my grief my faith got weaker.
Weeks later while rocking Dominique to sleep I decided to pour out my heart to God. During my prayer I heard His voice saying to me: "Why do you ask me to help you to accept this diagnosis made by man? This is not mine."
Bam! I had to change my course and surrender these spoken words over her to God and replace them with His Word and His promises. I learned that I have to not only guard my tongue but also go a step further and pay attention to the words that I allow to enter my mind and accept as truth.
SPEAKING LIFE BY SAYING WHAT WILL HAPPEN
My prayers now sound completely different. I ask God daily to heal her according to the measure He wants to heal her. I speak over our girl and others the things I want them to be able to do.
In the beginning I told her that she will love books and reading, that she will walk with us everywhere, and one-day she would worship the Lord and share her testimony.
I can't describe how amazing it is to be a part of these miracles and watch them unfold in front of our eyes. Our Speedy DeeDee is now walking 2 miles daily with us and doesn't need any strollers or wheelchairs when we go somewhere. She is able to jump, ride her recumbent bike, swim, and sing worship songs in her own unique way. Communication is still a challenge but God is not done with her yet.
Inspirational Questions:
· Are you using words to build people up or destroy them?
· Are your words filled with hate or love, bitterness or blessing, complaining or compliments, victory or defeat?
· How do you control your tongue to slow down?
· Are you quick to listen and slow to speak? (James 1:19)